Tamil Nadu Reports That All Students In Government Schools Have Been Vaccinated: The Tamil Nadu state government claims that all children in government schools between the ages of 15 and 18 have been immunised. The vaccination campaign for children was set for December 2021. It is to be noted that the covid-19 vaccination for the children having age between 15 to 18 has started from 3rd this month and the vaccination took place through Cowin Portal.
The Tamil Nadu state government claims that all children in government schools between the ages of 15 and 18 have been inoculated. In response to the increased number of COVID cases, India has launched a COVID-19 vaccination campaign for children aged 15 to 18.
Covid-19 Antiviral Pill is Now Available in India
The government has authorised only the indigenously manufactured Covaxin vaccine dosage from Bharat Biotech for vaccinating schoolchildren within the age group specified by Union Health Secretary Rajesh Bhushan.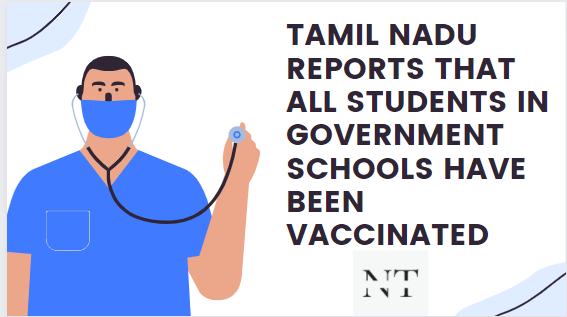 In a recent directive, the Tamil Nadu state government declared the closure of all schools in the state for all grades. The government also announced a vacation for school children, including teenagers in classes 10 and 12, until January 31, 2022, in light of the rising number of COVID cases in the state. The state government's directive also said that examinations for children in classes 10 and 12 expected to begin on January 19 had been postponed.
One Year of India's Covid-19 Vaccination Drive
Even though the holiday was declared for students in classes one through nine, offline classes were only held in schools for students in grades ten and twelve. However, due to the health risks and for the concern for the students' welfare as a result of the spike in the new Omicron variant, the government issued a circular stating that the holiday has been declared for students in all grades, including grades ten, eleven, and twelve, until January 31, 2022. The directive further adds that officials will review new dates for examinations planned for class 10 and 12 students during this time period.
On December 25, 2021, Prime Minister Narendra Modi announced the immunisation for children aged 15 to 18 years. State governments were instructed to enforce the same and prepare vaccination teams for children in the aforementioned age bracket to prevent any misunderstanding with the adult immunisation procedure.
West Bengal, Chandigarh, Kerala, Maharashtra, Delhi, Telangana, and Karnataka were among the first states to begin COVID immunisation for children. Schools, universities, and other educational institutions around the nation are now closed due to an increase in COVID cases, and online lessons are being held to prevent loss of learning.
Suggested Reading: