Live-in Relationships: In India, a live-in relationship, or living together like a couple without really being legally married to one other, is generally regarded as a taboo. However, for a number of reasons, these relationships have become more popular in recent years. In the dearth of particular legislation, norms, or conventions on the matter, the Supreme Court has offered recommendations for governing such partnerships in its decision. After a thorough evaluation of these rulings, this article attempts to determine the existing legislative positions regarding live-in partnerships in India.
The legal definition of a live-in relationship is "a living arrangement in which unmarried partners live with each other to undergo a long-term relationship in a manner akin to marriage." The primary notion behind cohabitation or having a live-in relationship seems to be that the interested duo intended to see if they were compatible before making a commitment; additional reasons may include financial worries. These kinds of partnerships are acceptable in some areas of the world, however some nations are adamant about not adopting the notion. India is one among them. Live-in Relationship is primarily discussed and under the domestic relationship as mentioned by 2(f) of the Prevention of Domestic Violence Act, 2005 (PDV Act, 2005) which will be discussed in detail further in this article.
Are Live-in Relationships Legal in India?
Indian law does not regard a live-in relationship involving consenting adults to be illegal. In the 2006 case of Lata Singh v. State of Uttar Pradesh, it was decided that, while a live-in relationship between the two people in a relationship of opposite sex is considered immoral, it's not really illegal.
"Though the notion of live-in relationship is regarded immoral by society, it is absolutely not criminal in the eyes of the law," the Supreme Court stated in another key case, Khushboo versus Kanaimmal and others. Living together ought to be a human right, hence it cannot be deemed illegal. If a couple stays in a live-in relationship for a significant time and presents themselves to the public as husband and wife, they are considered as legally married.
The same point was made in "SPS Balasubramanian vs Suruttayan," where it was stated that since a man and a woman live together like the husband and wife for a long period of time, the law presumes that they are actually married to one another and unless proven otherwise, and children who are born out of this whole live-in relationship are given rights to inherit in the parents' property. If the partnership is solely for sexual purposes, neither party is entitled to the advantages of an official marriage.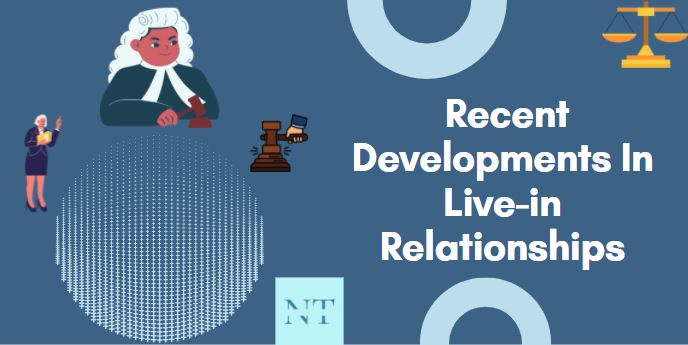 Domestic cohabitation between two unmarried persons and domestic cohabitation between someone who is married and unmarried individual or two married people are the two types of live-in partnerships recognised by the Supreme Court in Indra Sarma v. V.K.V. Sarma (2013). The former is recognized as a legal Live-in Relationship in India.
In the case of "D. Velusamy and D. Patchaiammal (5 SCC 600)," the Supreme Court established specific prerequisites to be regarded as "in the nature of marriage."
1. The pair must present themself to society as husband and wife.
2. They should be of legal marriageable age.
3. They must meet all other requirements for a lawful marriage, as well as being unmarried.
4. They must really have cohabited freely for a lengthy duration of time and presented themselves to the public as spouses.
It is essential to know that Sections 494 and 495 of the IPC declare any marriage of a person during the lifetime of her or his spouse or partner illegal and penal, unless such marriage is authorised by the concerned individual's personal law. As a result, a live-in relationship between a married man and a woman, or a married woman and a man, cannot be considered in the "nature of marriage" because it is prohibited explicitly.
Suggested Reading:
Rights Arising Out of Live-in Relationships
On June 30, 2008, the National Commission for Women suggested to the Ministry of Women and Child Development that the term "wife" in section 125 of the Cr.P.C. be expanded to also include the women in live-in relationships. The goal of the suggestion was to integrate the legal laws relating to women's protection from domestic abuse, as well as to bring the relationship of a live-in couple on a level to that of a valid marriage. Wives, children, and parents can seek maintenance from a person on whom they are reliant and therefore unable to support themselves under Section 125 of the Cr. P.C. Despite the fact that the modification was not included in the Cr. P.C., such connections were included in the definition of a domestic relationship. From the perspective of definition, Domestic relationship is known to be "a relationship between two mature individuals who are residing or have resided together in past, at whatever point in history, in a shared/common home, when they have been related by consanguinity, marriage, or a relationship in the nature of marriage, adoption, or are members of the family residing together as a joint family" as it is stated in Section 2(f) of the Prevention of Domestic Violence Act, 2005 (PDV Act, 2005).
As a result, a woman in a live-in relationship can seek protection under PDV Act of 2005 and file a maintenance claim. In the case of "Lalita Toppo versus State of Jharkhand," the Supreme Court considered the question of whether the PDV Act, 2005, applied to live-in partnerships. In a domestic relationship, the victim, that is, the estranged wife or live-in spouse, would indeed be entitled to remedy under the Act. 11 In "Ajay Bhardwaj versus Jyotsna," the court granted alimony to a woman in a live-in relationship under the PDV Act, 2005, citing this report. However, the PDV Act of 2005 only allows a woman to seek maintenance.
Rights of the Children
While granting a child's right to property in "Tulsa vs Durghatiya," the Supreme Court stated that kids born from a live-in relationship would never be considered illegitimate if his\her parents had at some point of time lived and cohabited under same roof for a significant period of time with the aim to be recognized as husband and wife, and it can never be considered as a "walk in and walk out" relationship. S16 of the HMA, 1955, and S26 of the Special Marriage Act confer legitimacy on kids born from the void and voidable marriages, including both, by stating that children born out from a null and void marriage or that a nullity decree is granted in particular regard of a voidable marriage are legitimate or considered to be legitimate.
However, such children's inheritance rights are restricted to the properties of their parents, as per Subsection (3) of the same provisions of the Act. As a result, if their parents weren't really legally married, such children do not enjoy coparcenary rights in the Hindu undivided family's (HUF) property. As a result, the requirements of these parts of the Act were being used to grant an inheritance right to children who are born out of a live-in relationship as in parents' self-acquired property.
Judicial Developments Regarding Live-in Relationship
Chitambresh & K.P. Jyotirindranath (2018)
In this matter, the father of a 19-year-old girl filed a writ petition to restrict her from residing with an 18-year-old guy. The Court decided that a petition of habeas corpus shouldn't be used to separate couples in a live-in relationship. The Court pointed out that live-in relationships have grown increasingly common in recent years, and that a warrant of habeas corpus cannot be awarded to separate a couple that is staying together. "Even if society does not embrace live-in partnerships, our constitutional court is required to protect the unrestricted freedom of adults to have such." The writ petition was rejected, and the daughter was deemed free to live.
Kamini Devi v.­ State of U.P. & 4 Ors. (2020)
The petitioners in this instance, Kamini Devi, who is around 24 years old, and petitioner two, who is about 28 years old, initiated a writ petition. After observing that all of the facts are in the petitioner's favour, the Court concluded that the petitioners are free to live together in harmony and that no one may interfere with their harmonious existence. No one's right to life and personal liberty shall be violated, according to Article 21 of the Constitution. The Court ruled that if they are disturbed in any way, they should contact the Superintendent of Police. The petitioner was ordered to be protected by the police by the Court.
Sanjay and Anr. v. State of Haryana & Ors. (2021)
The Punjab and Haryana High Court ruled in this case that although granted protection to a couple, "a live-in relationship is not really a novel phenomenon," "today's society has not yet been able to make progress to the degree of accepting the notion of such a relationship all without raising their eyebrows." A boy and a girl, both aged 18 and 19, brought the lawsuit in order to get a protective order for them. They found each other on social internet and planned to marry. The Supreme Court and different High Courts have acknowledged live-in relationships and provided them protection under the ideals embodied in Article 21 of the Indian Constitution, according to the Court.
Smt. Geeta and Another v. State Of U.P. & 4 Ors. (2021)
A writ petition was brought in this matter by two petitioners, one of whom was a major and the another of whom was also a major. The woman had already been married and was in a live-in relationship with some other guy, the Court observed in its decision. The Court noted that they could not see how a petition like this could be permitted to encourage illegal behaviour and conduct. The Court denied the petitioner's request for protection and dismissed the case with a fee of Rs. 5,000.
LGBTQIA+ and Live-in Relationship
After striking down of section 377 in the case of Navtej Singh Johar v. Union of India, the a writ of habeas corpus to prevent the latter's family from marrying her against her wishes, the Orissa High Court ruled in favor of Chinmayee Jena @ Sonu Krishna Jena v The State of Odisha in August 2020, upholding the right of a trans-man and a cis-woman to cohabit in a live-in relationship. Consequently, the Court upheld the petitioner's right, in this case it happened to be addressed and acknowledged as he/him, as defined by the standard Psychological Test to evaluate self-identification of gender, as per the NALSA decision; safeguarded the petitioner and his partner's personal autonomy; and explicitly recognised their right to be in a live-in relationship beyond the marriage.
International development in Live-in Relationships
Live-in Relationships in USA
Prior to 1970, coexistence of a couple was unlawful in the United States, although it was later granted common law status, subject to specific conditions. Several consenting sex legislations were later passed in the United States, paving the door for living together contractual agreements and their cousins, "prenuptial agreements." Cohabitation was eventually formalised in the country, with cohabiting couples having virtually the same duties and responsibilities as married couples, comparable to Sweden and Denmark. Those who share a home are not considered legal parents though.
Live-in Relationships in France
In France, adults with the same or opposite sex can decide to live together and coordinate their life, granting them the rights of a married couples while also contributing to social assistance. These arrangements can be cancelled at any moment after providing the other party three months' notice. The term "pacte civil de solidarité" i.e. civil solidarity pacts, refers to this form of arrangement. The French National Assembly enacted this legal agreement in 1999, allowing spouses to engage into a social union arrangement.
Live-in Relationships in United Kingdom
In the United Kingdom, partners in a live-in relationship do not have the same legal status as married couples. Partners are under no legal responsibility to keep up with each other. Partners cannot seek an inherited right on each other's property unless they include the other's name in their wills. Unmarried people have no protected rights to ownership of each other's property if their relationship ends, according to a 2010 memorandum from the Home Affairs Section to the House of Commons. The law, on the other hand, protects the kid born from such a union. Regardless of if they are engaged or cohabiting, both parents are responsible for their children's upbringing.
Live-in Relationships in Australia
A de facto relationship can occur between two individuals of different or even the same sex, and that person could be in a de facto relationship even though legally married to some other adult or in a de facto relationship with anybody else, according to the Australian Family Act of 1975.
Live-in Relationships in Scotland
The Family Law Act of 2007 in Scotland authoritatively acknowledged and permitted couples living together. Nearly 1,50,000 people were living in live-in partnerships when the bill was approved. If such a partnership ends, a companion seems to have the right to seek financial assistance.
References
Dr. Justice V.S. Malimath Report. Committee on Reforms of Criminal Justice System. Government of India, Ministry of Home Affairs. Report Vol I; March 2003. https://www. mha.gov.in/sites/default/files/criminal_justice_system.pdf. Accessed January 08, 2021.
Wallman, Lester. 1994. Cupid, Couples, and Contracts: A Guide to Living Together, Prenuptial Agreements, and Divorce. New York: Master Media.
Nambi S. Marriage, mental health and the Indian legislation. Indian J Psychiatry. 2005;47(1):3-14.
The Constitution of India, 1950.
The Criminal Procedure Code, 1973
Prevention of Domestic Violence Act, 2005
Hindu Marriage Act, 1955
Special Marriage Act, 1954