One Year of India's Covid-19 vaccination Drive: India received its first dose of the Covid-19 vaccine on January 16, 2021. Since the country's vaccination programme started one year ago, it has been an exciting year. Here's a rundown of all the highlights.
Just one year ago, India started on the daunting task of vaccinating its huge 1.38 billion-person population against Covid-19. And it is less to say that the endeavor has been a great success so far especially with the technology driven approach by Government of India and its excellent Cowin Application.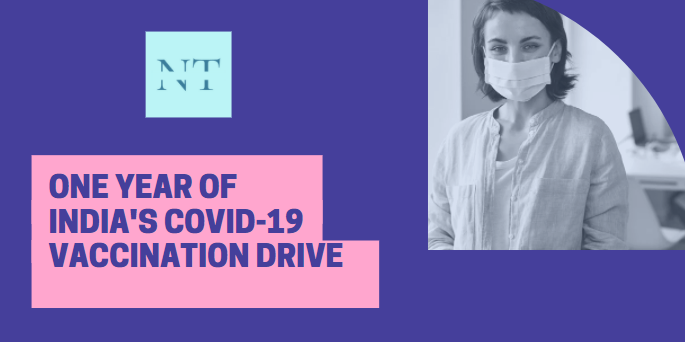 In the year after the country's vaccination push started, 90% of the eligible population has gotten their first shot, with 60% receiving their second dose as well. Furthermore, preventative dosages, sometimes known as booster injections, are now being given to frontline workers and vulnerable adults over the age of 60.
Also Read: Covid-19 Antiviral Pill is Now Available in India 
Since the day of India's first vaccination shot (which was January 16th, 2021) a lot has happened. To get at the present vaccination demand plateau, the country has faced both vaccine reluctance and vaccine scarcity. "The vaccination effort was a success since there was very little vaccine hesitation compared to the rest of the globe," said Dr Monica Mahajan, Max Healthcare's director of internal medicine.
Here are some of the highlights from the "world's biggest immunisation push."
How Many Got Covid-19 Vaccines?
So far, more than 156 crore vaccine doses have been delivered in India as part of the national immunisation campaign. Over 90 crore of these are given as initial doses, 65 crore as second doses, and 42 lakh as 'precautionary doses.'
The Covid-19 Vaccine Drive Timeline
The immunisation campaign in India has been carried out in stages.
On January 16, 2021, a vaccination blitz for frontline and healthcare personnel started.
Vaccination campaign for people over the age of 60 and those with co-morbidities in the 45-60 year age range started on March 1, 2021.
On April 1, 2021, all people over the age of 45 become eligible for Covid immunisation.
All people (18+) become eligible for Covid immunisation on May 1, 2021.
In November 2021, the government initiated a Har Ghar Dastak (door-to-door) vaccination programme in order to attain 100% first-dose coverage.
Adolescents (15-18 years old) begin getting Covid-19 vaccination on January 3, 2022.
On January 10, 2022, the first precautionary dosage was administered to frontline employees and vulnerable adults over the age of 60.
What Are the Approved Vaccines in India?
In India, eight Covid-19 vaccines have been approved for emergency use in the last year. These include Covishield by Serum Institute of India, Covaxin by Bharat Biotech, Sputnik V from Russia , Johnson & Johnson's single-dose vaccination, Moderna, Zydus Cadila's ZyCoV-D, Covovax by Serum Institute of India, and Corbevax by Biological E.
Covishield and the domestically produced Covaxin, on the other hand, have formed the backbone of India's vaccination effort. While Sputnik V failed to take off in India with the expected impact, ZyCoV-D is yet to be launched . Meanwhile, Moderna has been unable to access the Indian market due to the lack of an agreement between what Indian Government wanted and what they offered.
Manufacturing issues have been encountered by Bharat Biotech's Covaxin, and facilities such as bio-safety level 3 (BSL-3) labs have been enhanced with government assistance. At the moment, Covaxin is the only vaccination given to children.
The World Health Organization approved Bharat Biotech's Covaxin for emergency use in November 2021, making it the eighth vaccination in the world to get clearance from the global health agency.
India's Vaccination Drive wasn't Without Challenges
The vaccination campaign in India has not been without its share of difficulties. The administration has been slammed for the delay in ordering immunizations.
"We should have scheduled our vaccinations by June 2020, when the first vaccine candidates were available and field testing began. This would have allowed us to gain several months im "Professor Dileep Mavalankar, head of the Indian Institute of Public Health in Gandhinagar, agreed.
Moreover, India's plan to sell vaccinations to other countries drew further criticism, particularly after the catastrophic second wave that literally shook India. The effort, known as Vaccine Maitri, was temporarily halted in April 2021. Vaccine Maitri, critics alleged, was a "image-building exercise" for the prime minister.
As India confronts a third wave of Covid-19, headed by the Omicron form, the vaccination campaign will continue to remain critical in the fight against the pandemic. "We are witnessing miniscule deaths and fewer hospitalizations even during this terrible wave of the epidemic because of the people of India who have gotten themselves vaccinated," said Dr Vikramjeet Singh, senior consultant at Aakash Healthcare in Delhi.
Suggested Reading: