The Indian pharma authority Central Drugs Standard Control Organisation (CDSCO) certified the Covid Antiviral Pill Molnupiravir for emergency use in the treatment of Mild to Moderate Covid-19 on December 28, 2021. Though covid-19 vaccination is taking place as per the initiative and directive of the government, this antiviral pill is expected to make big difference.
This website i.e. sundarban news today will provide you with the information on this Covid-19 Antiviral Pill Price, It's Usage, Who Can Take This Coronavirus Antiviral Drug and Who Can't, and so on.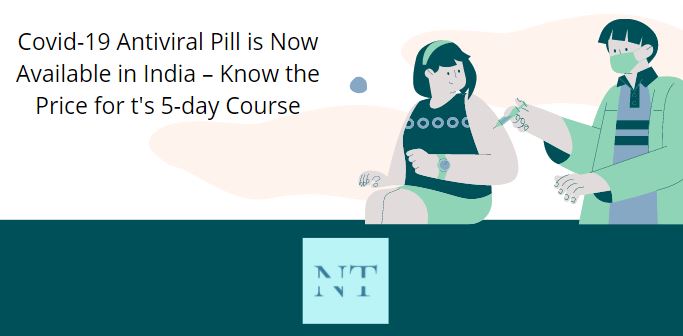 Patients would be charged Rs. 1399 for the whole five-day course. The patient will be given two doses of Four Capsules every day, according to the suggested dosage. That corresponds to a total of 8 Tablets in one day, with the course lasting five days. Molnuparavir pills are available for Rs. 1399. It implies that one Covid Antiviral Pill will cost just Rs. 35, making it the most affordable Covid antiviral medicine in India.
Covid-19 Antiviral Pills will be manufactured by more than 12 firms in The country. Pharmaceutical companies such as Hetero, Natco, Sun Pharma, and Dr. Reddy's will shortly release its Covid Antiviral Pills, which will cost between Rs. 1500 and Rs. 2500 for a whole 5-day course.
Important information about Covid Antiviral Drugs
Molnupiravir has been approved for use in the treatment of the oral anti-covid tablet in many countries, including India. Previously, the UK and USFDA approved this oral medication for Covid-19 in individuals with an oxygen level of 93 percent and a high risk of disease development.
Now, we'll go over some crucial information regarding Covid Antiviral Pills in India. If you carefully read these points, you will get solutions to all of your queries about Corona Antiviral Pills:
Adult patients are the only people who may take Covid Antiviral Drug. Patients who have have 93 percent blood oxygen levels and are at high risk of infection progression, including hospitalisation or death.
Molnupiravir Covid Antiviral Pills is not yet approved for use by individuals under the age of 18.
Patients are not permitted to take the tablets for more than 5 days in a row.
Patients may take this medication at home after obtaining a prescription from a licenced doctor.
Dr. Reddy's will shortly release Generic Covid Antiviral Pills at a price of Rs. 35 per Capsule
Dr. Reddy's Laboratories Ltd. has stated that the generic version of Merck's Covid-19 Antiviral Pill Molnupiravir would be available shortly. Molflu will be the brand name for this Covid Antiviral Drug, which will be available for the low price of Rs. 35 per capsule.
If you have any questions about the Molnupiravir – Covid-19 Antiviral Pills 5-day course, please leave them in the comments area below. We will respond to your inquiries as quickly as possible.
To know more about covid-19 vaccination booster dose you can read this article.
Suggested Reading: