In a deep and dangerous forest like Sundarban, watchtowers happen to be the most suitable place to watch the wildlife while remaining safe. There are many watchtowers which have been established in Sundarban in different strategic locations. We will discuss the most prominent watch towers that you should visit without a miss.
Sajnekhali Watch Tower
The most probable spot from where you can reasonably hope for a sight of a Royal Bengal Tiger is Sajnekhali Watch Tower. So, we will discuss about this one first in this article about 7 Watchtowers of Sundarban. Sajnekhali Watch Tower provides a stunning panoramic view of the natural wonder of Sundarban. At the same time, you can keep an eye out for tigers, deer, and other wildlife.
It is a famous tourist site, and the forest office there can provide permission to travel to other areas of the Sundarbans. There is also a hall with a curated collection of images of birds and animals photographed by forest officials.
The majority of the tigers is seen from this watch tower. Sajnekhali Watch Tower may also provide views of wild boars, axis deer, and crocodiles.
Sajnekhali Watch Tower can accommodate 25 people at a time. Just in the front of the watch tower, there is a sweet water pond where different animals assemble to drink water at different times. Behind the pond, there are tracts of terrain free of vegetation where animals may be spoted from a distance.
Sudhanyakhali Watch Tower
The Sudhanyakhali Watch Tower, being one of Sundarban's most prominent tourist attractions, can offer you what you might always have in your mind – a glimpse of the Royal Bengal Tiger. It is located within the Sundarbans National Park. Aside from the tiger, travellers may also see saltwater crocodiles, axis deer, and wild boars.
The Watch Tower can accommodate a maximum of 25 persons at one time. It is near to a freshwater pond where the animals gather to get water. It is because of this aspect that the tower is perfect for seeing wildlife. Naturecamp Travels goes to great lengths to ensure that you receive an excellent view of the forest and the diverse flora and animals that surrounds it.
Do Banki watchtower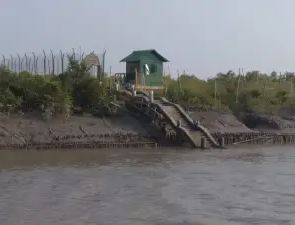 The Do Banki watchtower is famous for its lengthy canopy walk, which is 20 feet above the ground. It looks like a flyover with a 12 ft high grill fencing and a thick net in the shape of a canopy to safeguard tourists from wildlife. This path provides an excellent view of the Sundarbans Tiger Reserve jungle. There is a sweet water pond in the adjoining area as well. Tourists usually visit Jharkhali and Bonnie camp from Do Banki watchtower.
Netidhopani Watch Tower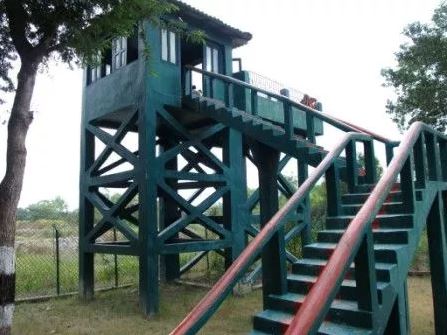 Netidhopani Watch Tower of Sundarban National Park has a unique feature as it is related with the Behula and Lakhindari mythology. According to legend, while following her late husband on his final trip on the boat, Behula noticed something fascinating while passing the bank of what is now known as Netidhopani. A woman was washing her clothes, and a toddler was constantly bothering her.
She became enraged and sprayed some water on the youngster. The boy's life was extinguished. The woman completed her clothes and then sprinkled some water on the kid while chanting mantras to resurrect him.
Behula made the quick decision that this must have been the person who could restore her husband back to life. She sailed her boat to the riverbank and begged the lady (The name Netidhopani came from the name of this lady) to teach her the verses. This lady played a pivotal role in bringing back Lakhindar's life.
In reality, Behula ascended to heaven while commencing her journey from 'Ghat' or riverbank. Today, the remnants of a 400-year-old Shiva Temple may be seen from this watchtower. It is also believed that King Pratapaditya built a road on the extreme right side of the forest to protect the coastal region. It is completely buried with soil now though. Netidhopani Watch Tower can accommodate up to 20 people at a time.
Watch Tower at Bonnie Camp
Bonnie Camp is one of the most good looking and well decorated Sundarban watchtowers. This 50-foot-tall watchtower is the tallest in the Sundarban. It is near to the Bay of Bengal and takes around six hours to arrive by six-cylinder boat from Sajnekhali. There is a sweet-water pond nearby the watch tower like the other Sundarban watchtowers. At this pond variety of wildlife of Sundarban are seen to visit throughout the day.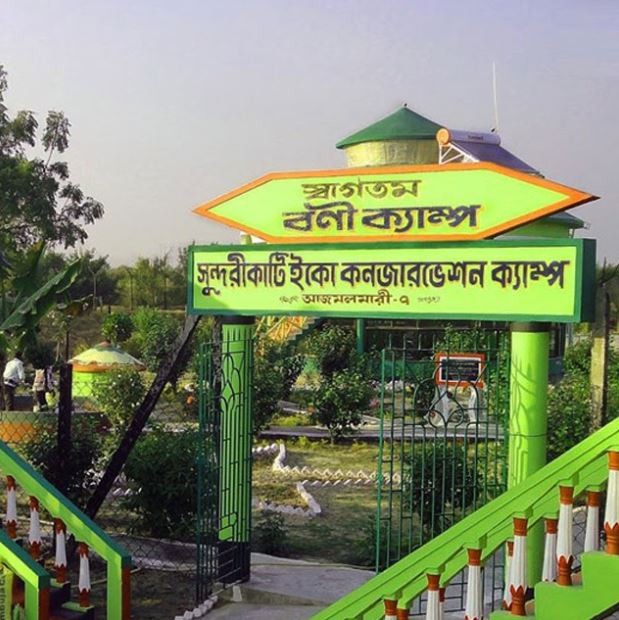 The atmosphere in the watchtower is fantastic. Wildlife lovers would feel as if they are immersed on a remote island surrounded by a gorgeous wildlife vista. There is a provision of night stay at the camp which can be a once in a lifetime experience. The Royal Bengal Tiger's lurking terror and the deer's barking at night will add an uncanny sense to this place. On full moon nights, the view of the forest from the watchtower, crisscrossed with rivulets and streams all around, is a visual pleasure.
For overnight stays, there is a tourist rest room at Bonnie camp. The rooms, however, do not have electric power as it runs by just solar lighting. Naturally there would be no air conditioning available. It is necessary to make a reservation in advance if you wish to spend a night there.
Jhingekhali Watch Tower
This watchtower is one of several in the Sundarban National Park's eastern outskirts. It is located in the Bashirhat Range of the Sundarbans' Jhingekhali Beat. The watchtower can accommodate up to 20 people at a time. Because of its distance from the Sajnekhali/Dayapur region, this watchtower is frequently skipped by tour companies and travelers. Because the number of tourists in this location is low, the picturesque splendour of the area is well protected, and the possibilities of seeing tigers, as some says, are higher than at other watchtowers.

This watchtower, like others, includes observation lines and a sweet water pond for viewing animals. Within the Watchtower's compound, there is also a BanoBibi (Also called Bon Bibi) temple. This watchtower has a good chance of catching a glimpse of Brahmini Kites, among other birds.
Burirdabri Watch Tower
Burirdabri camp is well-known for its watchtower. It also gained the fame for its mud walk. In this camp, there is a mangrove cage route as well, leading to Raimongal View Point. During the mud walk, you may closely view the ground wildlife, which includes snails, crabs, and mollusks.
The design of this watchtower is really a work of art, with one travelling across wooden bridges and then through the mud cage before arriving at a wooden watch tower only to discover the overlooking Bangladesh where river Raimongal defining the international border between Bangladesh and India. From this watchtower, one can have a distant view of Bangladesh Sundarbans. This watchtower can accommodate up to ten people at once.
This is yet another watchtower that's also overlooked by travel companies and travelers due to its remoteness from the Sajnekhali/Jamespur/Pakhiralaya region.