Indian Police Ranks, Police Ranks in India: In this article, the ranks of Indian Police and the concomitant hierarchy of the police force of different states of India has been discussed in details with the typical salary and responsibility that each rank is associated with. We also discussed the different insignia of Indian Police.
Inforgraphic on India Police Ranks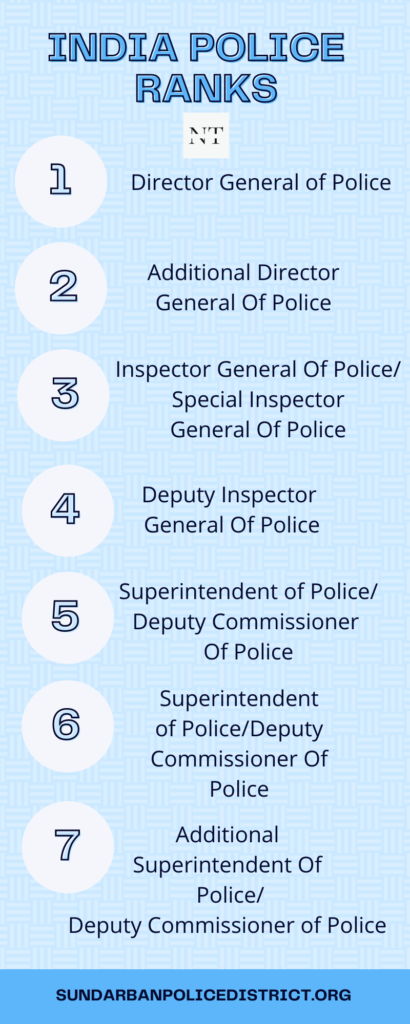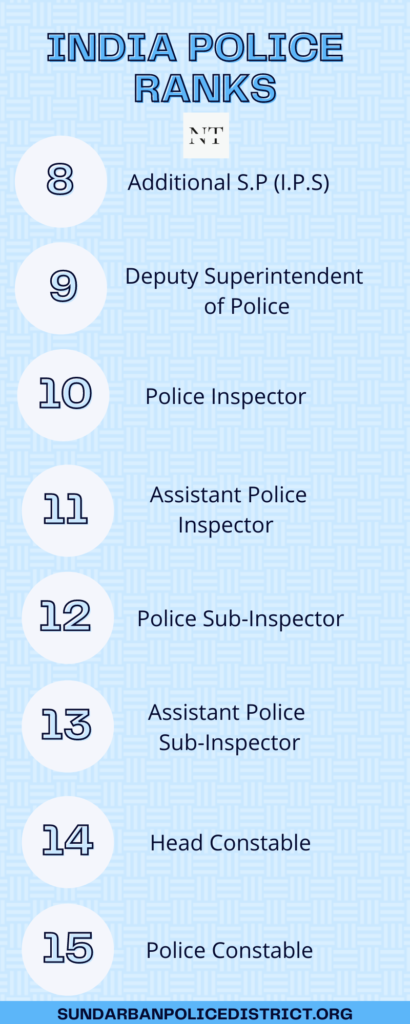 Introduction to Indian Police System and Indian Police Hierarchy
The introduction to democracy was a great step towards equality and the end of monarchy. Where people were allowed to exercise free will. With this new found sense of freedom people were content. Finally, the worst is over and now we all can live a happy and peaceful life. But,as merry as it may seem, it was not long lived. As this new found freedom meant people could choose what they wanted to do with no consequences. And we all know that there is no extent to what a person might be capable of, we cannot even imagine what events could have transpired between that brief period of anarchy.
The World was a hub of anarchy and only God could judge them, but to wait for a lifetime for it to situate is too much for even the patient of people and even then there is no guarantee of justice.
India being a land of God-fearing people, in the veils of superstition either maintained a very good conduct or performed displeasing acts in their name. There are also many underlying reasons and occurrences that may lead to crimes and are not always reasonable.
Apparently, our forefathers and leaders saw these flaws in human nature and a defense force was administered to preserve the laws they made in accordance with the democratic policy that states,
"Of the people, By the people, For the people."
You guessed it right! They are Police Officers.
The first police commission was established under Sir Andrew Fraser and Lord Curzon in 1902-03. It was formerly known as Imperial Police.
It is a rather lucrative career in these times.
The protector of law that was made for the welfare of a constitution and preserve and restore peace and harmony among a nation is a tough shoe to fill in and the public cannot be more grateful as we feel safer around them.
I am going to list all the ranks that consist of this righteous responsibility, when you successfully become a police officer or if you aspire to be one.
Note: India practises Federal Democracy i.e a system that divides its powers between Central and State Government. In the 7th line of the constitution it is said that "Law & Order" is a state subject. Hence, all the State Police Departments report to their own respective Governments out of which 9 union territories with Delhi are under the Central Govt. through respective Governors. This also means that rules and the eligibility criterias may vary depending upon the states.
Who is a Policeman/Policewoman ?
A Police Officer is a law employee that is tasked to protect life and property while staying within the boundaries of the laws and regulations, ensuring a safe neighbourhood.
It is a generic term that does not imply any rank or post of the personnel.
Indian Police Ranking Hierarchy
| | |
| --- | --- |
| Serial | Rank of the Police Personnel |
| i. | Director General of Police (DGP) |
| ii. | Additional Director General Of Police (ADGP) |
| iii. | Inspector General Of Police/ Special Inspector General Of Police (IGP/SIGP) |
| iv. | Deputy Inspector General Of Police (DIGP) |
| v. | Superintendent of Police/Deputy Commissioner Of Police (SP/DCP) |
| vi. | Superintendent of Police/Deputy Commissioner Of Police (Junior Management Level) |
| vii. | Additional Superintendent Of Police/Deputy Commissioner of Police (ASP/DCP) [Less than 10 years of service] |
| viii. | Additional S.P I.P.S |
| ix. | Deputy Superintendent of Police |
| x. | Police Inspector (P.I.) |
| xi. | Assistant Police Inspector (A.P.I.) |
| xii. | Police Sub-Inspector (SI) |
| xiii. | Assistant Police Sub-Inspector (ASI) |
| xiv. | Head Constable (HC) |
| xv. | Police Constable (PC) |
---
The Hierarchy in the Police Department and Their Responsibilities.
Note: The Ranks are mentioned in ascending order.
i) Director General of Police
They are the State Police Chief appointed by the cabinet ministers and they have a three star rank. They administer the entire State/ Union Territory.
How to become a DGP: To acquire this post you have to become an IPS Officer first. This post can only be attained by promotions.
Salary: 2,25,000 INR per month.
ii) Additional Director General of Police
They are posted as the zonal heads in various Indian States. Their position is as esteemed as the DGP's.
They are incharge of the law and order section of their State.
Salary: 2,25,000 INR per month.
iii) Inspector General of Police/ Special Inspector General of Police
They are incharge of managing the police force, they can exercise independent commands towards the National Police Services and can maintain any other new functions instructed by the national legislation.
Incharge of the zone.
To become an IGP one must be a graduate with first class and not be more than 25 years of age.
Salary: 1,44,200 INR per month.
iv) Deputy Inspector General of Police
The Deputy Inspector General of police is the representative of the Inspector General concerning affairs with the District Magistrate.
They also solve cases that they are sure about and submit forward the cases that need attention to the Inspector General for an opinion.
Incharge of a Division.
Becoming a DIG can be attained by getting promoted to the lower ranks.
Salary: 1,31,100 INR per month.
v) Superintendent of Police/ Deputy Commissioner of Police (Selection Grade)
They possess the power to command the officers of districts and have the role of second in command in the matters of metropolitan and regional areas.
Incharge of the District.
To become a S.P you must acquirea Bachelor's degree in any given field. You can be promoted from S.I.
Salary: 1,18500 INR per month.
vi) Superintendent of Police/Deputy Commissioner of Police (Junior Management Grade)
They are the head of the District Police. They are required to manage the States Police falling under their Jurisdiction.
Salary: 78,800 INR per month.
vii) Addl. Superintendent of Police/Addl. DeputyCommissioner of Police.
They are given the same list of powers as the Deputy Commissioner.
The main duties that they should handle includes revenue, executive and judicial work.
Salary: 67,700 INR per month.
viii) Assistant Superintendent of Police
Being the in-incharge of a subdivision, monitoring and participating in all the crimes investigation and under his jurisdiction. They are to visit all the crime scenes of serious offences as mentioned in their orders.
Incharge of a subdivision.
How to become an ASP: It can be obtained via promotion from IPS Officer on the basis of experience after the UPSC exam.
Salary: 67,700 INR per month
ix) Addl. Superintendent Of Police / Addl. Deputy Commissioner of Police. (OPS)
They are responsible for the general supervision of all the personnel below them and are required to provide guidance and instructions whenever it is required.
They are given the task to ensure a smooth and proper execution of any given operation or mission under his jurisdiction.
How to become an Addl. SP: This post can be achieved by promotion from ACP/DSP.
Salary: 67,700 INR per month.
x) Deputy Superintendent of Police/ Asst. Commissioner of Police. (OPS)
Assistant Commissioner Of Police (ACP) are the officers that ensure a smooth daily transaction in their outposts which also includes offenses and criminal activities.
They are required to produce feedback and condone or change departmental schemes, initiatives, and actions.
Incharge of the Sub Division.
How to become a DSP: Graduation in any given field with an age limit of 21 to 30 years old.
One must have a height of 168cm and chest to be 84cm. Through the State Civil Services Exam.
Salary: 56,100 INR per month.
xi) Inspector Of Police
They are responsible for ensuring and maintaining the laws and regulations.
They also prevent, investigate and co-ordinate the discernment of a crime.
Incharge of the police station.
How to become an Inspector Of Police: This post can be achieved through promotion via Sub. Inspector.
Salary: 45,000 INR per month.
xii) Sub. Inspector Of Police.
They are a link between their superior police officers and the personnel below them.
They are a low rank Police Officer and the first investigating officer. They possess the power to investigate all the cases that fall under their jurisdiction.
How to become a Sub. Inspector of police: One must be a graduate in any given field and must have a height of 170cm with a chest of 80-85cm. The age limit is 21-25 years old.
Salary: 35,400 INR per month.
xiii) Asst. Sub. Inspector/Havaldar Major.
They are usually in-charge of their designated police outpost, incharge of armouries and Chief Drill Officer. Their responsibilities include generating reports of incidents that need attention for their senior officers.
How to become an Assistant Sub. Inspector: One must have an intermediate degree with a three years diploma in the pertinent field.The maximum limit is 25 years old.
Salary: 30,100 INR per month
xiv) Havaldar
The people belonging to this rank are the first line of supervisors in the police force.
They perform all the duties done by a police officer and other department employees in their daily activities.
How to become a Havildar: One must have a BA/B.Sc with Maths(Grade XII), or should have Science or Maths as their primary subjects from a recognised board of education. They can apply for it until the max eligible age i.e 25 Years old. The minimum age should be of 20 Years Old.
Salary: 25,500 INR per month.
xv) Lance Naik
This is a corporal rank i.e military rank that nominally responds to commanding sections, squad of a team. They are a support team that gets deployed under the supervision of the commanding officer as an aid to a mission or objective that might need more assistance.
How to become a Lance Naik: Aspirants should be a part of the army first and they must serve the army for a span of 3 years post training period. They also have to pass numerous drill tests (Arms drill, Lathi Drills, Riot Drills, etc.)and score 50% of the full marks to be eligible. The promotion is conducted in the month of February every year and is selected by D.I.G of Police and S.A.P.
Salary: 20,200 INR per month.
xvi) Constable
This word is taken from the Latin expression "comes stabuli" which literally translates to "count of the stable."
Constable is the least ranking officer in the police department. Anyone can be granted these sets of powers with no entitlement. However, The commander-in-chief of all Royal Armed Forces in France was called the Constable Of France.
How to become a constable: Individuals with a Grade XII certificate (Certified Board) can apply for the police constable test. You should not be more than 22 years old and less than 18 years old. Their height should be well and above 167cm with a chest of 81cm. They should not wear glasses.
Salary : 21,700 INR per month.
---
Disclaimer:
The responsibilities of the personnel and eligibility criteria that are mentioned above is subjective to the location or state they operate in i.e their area of jurisdiction.
I have not included UPSC, Civil Service Exams, Physical Endurance Test, and Medical Test.
The Salaries that are listed here are all basic salaries.
---
What are the things that we can or must expect from a Police Officer ?
Police are a faithful allegiance to the Constitution concerning India. They should uphold and dignify the rights of the Indians guaranteed by it.
They should not question the agenda or necessity of any law enforced or enacted. They should apply the law unwaveringly and impartially without favour or fear, grudge or vengefulness.
They should recognize and respect the limits of their functions and powers and operate accordingly. They should not punish the guilty and take judiciary matters in their own hands.
---
Frequently Asked Questions
Is a Police Officer a high demand profession at this time ?
It is the most prestigious position in society to prevent crimes and maintain a peaceful neighbourhood. The Government does provide benefits for former officers and it is an in-demand profession.
How much money do Police Officers make at the lowest level ?
They make about 7,333 to 26,831 INR per month depending upon their position and experience.
As a fresher they can make upto about 15,000 INR per month.
What are the qualifications required inorder to become a Police Officer ?
A bachelor's degree scored above 50% to be eligible for exams such as CSE (Civil Service Exams) and UPSC (Union Public Service Commission).
Physical tests and attributes, and medical tests.
Does a bad credit report deny your chances of becoming a police officer ?
The line of Law enforcement requires the recruiters to initiate a thorough background inspection that might also include a credit check. There are no specifications on credit check being a problem here, but it might create a commotion for the same.
Can I be a Police Officer after commiting a crime ?
No, unfortunately the Supreme Court has passed an order that any individual that has faced a criminal case is ineligible to work as a police officer regardless of the case being resolved within good terms for the accused.