Meghan Mangrum, an education journalist who had joined the Dallas Morning News in August 2022, claims she was fired over a tweet directed towards Dallas Mayor Eric Johnson, D. On February 11, Mangrum tweeted in response to Johnson's accusations that the local media wasn't covering favorable stats on the decrease in violent crime in recent years.
Dallas Morning News education journalist Meghan Mangrum was fired after she tweeted what she thought was an innocuous response to a tweet from Dallas Mayor Eric Johnson. The mayor had accused the local media of not covering favorable statistics that show decreases in violent crime in recent years. In response, Mangrum tweeted, "Bruh, national news is always going to chase the trend. Cultivate relationships with quality local news partnerships." The tweet was deleted, but the mayor responded, "Bruh? Have we met?" and his chief of staff, Tristan Hallman, called Mangrum's tweet disrespectful and unprofessional.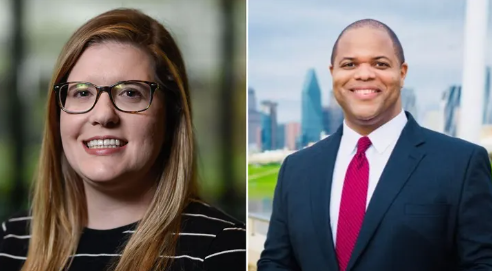 Mangrum was unaware that her "bruh" tweet would lead to her termination three days later. Dallas Mayor Eric Johnson criticized local media for inadequate coverage of decreasing crime statistics in the city. Mangrum was interviewed by D Magazine, where she disclosed that she was interrogated by the Dallas Morning News executive editor Katrice Hardy during a human resources meeting on Monday.
During the meeting, Hardy, who is Black, questioned Mangrum about whether her use of the word "bruh" towards the Black mayor had a racial connotation. Despite Mangrum's explanation that she uses the term frequently and without any racial undertones, she was still fired by the Dallas Morning News a few days later. According to D Magazine, Mangrum's Twitter account contains numerous instances of her using the term "bruh" towards a variety of accounts, including those belonging to hockey fans and the Oklahoma Department of Wildlife.
The Dallas Morning News declined to offer a statement regarding the firing of Meghan Mangrum. Mangrum insisted that her use of "bruh" was not racially motivated and that she uses the term often on social media. Despite this, she was fired the same day she helped organize a union protest with her colleagues over longstanding issues at the Dallas Morning News.
Mangrum was not given a clear explanation of how her tweet violated the newspaper's social media policy. In an interview, Mangrum defended her tweet, stating that she was supporting her colleagues and the honest work they do in response to the mayor's criticism of local media's coverage of crime. She also expressed pride in standing up for her colleagues and looking for the same quality in her workplace.
The Dallas Guild News stated to D Magazine that it filed an unfair labor complaint against DallasNews Corporation with the National Labor Relations Board related to Mangrum's termination. Mangrum shared with D Magazine that she plans to move back to her parents' home in Florida until she secures another job. When asked about Mangrum's firing, Hallman informed that Johnson's office did not ask the Dallas Morning News to discipline Mangrum, and that they do not intend to comment on private sector business personnel decisions or social media policies. Johnson's office wishes Mangrum the best in her future endeavors.