IPC 341- Indian Penal Code Section 341: The Indian criminal code states that anybody who unlawfully restrains another person will be punished with simple imprisonment for a time that may extend to one month, or with a fine that may amount to five hundred rupees, or with both. Wrongful Restraint may be defined as the act of stopping or prohibiting a man from travelling from one location to another where he has the legal right to be and wishes to go, in plain English.
In this case, the improper intention of a person to commit a specific act is not a required element of the crime. Restraint is merely the deprivation of a person's liberty against his or her will, as opposed to consent. If, for example, someone is robbed of his or her ability to move due to sleep, he or she will not be vulnerable to restriction.
Purpose of Section 341
The implementation of such a clause was primarily motivated by the fact that the Indian Constitution grants every individual the right to freely migrate around the country's territory. Articles 19 and 21 of the Indian Constitution, on the other hand, allow for and guarantee the right to personal liberty to every citizen of the country, respectively.
Liberty, like the two sides of a coin, is not without its limitations. It may be reduced, abridged, or restricted in the public's interest if the method specified by the law is followed in the benefit of the public.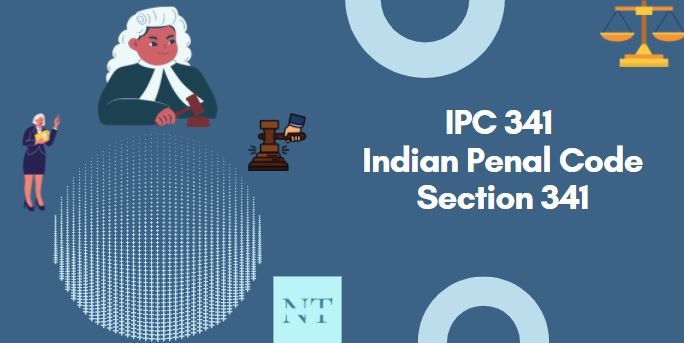 The Indian Penal Code makes unjust restriction punishable under section 341 of the Code in order to protect the interest of the person's right to liberty against deprivation by an individual or group.
In order for Section 341 of the Indian Penal Code to be applicable, there must be an obstruction that can be traced back to the person accused. It is necessary for the obstructor to have the intent, knowledge, or reason to believe that the act or directives he provides would create blockage or impede a person's ability to move.
Example of IPC Section 341
If person A removes a ladder from a home and his conduct causes person B to get stranded on the roof of the house, then person A will be held responsible for creating an obstacle in B's way under Section 341 of the Indian Penal Code.
Exception of IPC 341
In addition, there is an exception provided for the purpose of Wrongful Restraint.
If an obstruction is committed in good faith and the accused thinks that he has a legal right to prevent the person from doing anything, the accused does not commit an offence. It is not possible to say that someone was unfairly restricted if the individual had no legal right to travel in a certain direction at all.
'In the case of Vijya Kumari v. S.M. Rao, the Supreme Court found that the complainant, a teaching licensee who had a room in a hostel after the period of the licence had expired, had no right to claim to remain in the room, and that any obstacle would not constitute unjust restraint.'
What Constitutes Wrongful Restraint?
Keeping a man out of a location where he desires to be, and where he has a legal right to be, is considered wrongful restraint by Section 339 of the Indian Penal Code. There can be no justification for even the smallest illegal restriction on the subject's freedom to travel when and where he chooses, provided that he does so in a lawful way. Such restrictions are prohibited and penalised under this clause.
In order to comply with the section, a person must:
(1) voluntarily hinder the flow of traffic.
(2) The obstacle must be of such a kind that it prevents that person from moving in any direction in which he or she has a legal right to go. The usage of the term 'voluntary' is essential. It conveys the idea that obstruction should be straightforward. The impediments must be such that they prevent a person from moving about in his or her customary manner. It ought to be a physical one, however. In order to produce blockage, they must all have the same goal.
Creating the appearance to another that it is impossible, difficult, or hazardous to progress, as well as making it genuinely impossible, difficult, or dangerous for another to proceed, are all examples of how someone might block another.
Prerequisite of IPC 341
The pre-requisite for the crime of unlawful restraint is that the person who is the subject of the constraint has the legal right to pursue the case. According to Section 339 of the Indian Penal Code, 1860, which defines unjust restraint, it is an unavoidable circumstance that the person who is hindered has the legal right to continue in a certain direction. After reading Section 339 and Section 31, it will become evident that if the accused willfully hinders any person in order to prevent that person from moving in any direction in which such an individual has the right to advance, he is considered to have unlawfully confined that person. Section 339 of the Indian Penal Code, 1860, specifies that the accused must have prevented a person from moving ahead in any direction in that he has the right to proceed, and when he obstructs or restrains a person from moving ahead in any direction, he went on to commit the offence of wrongful restraint, which is punishable under Section 341 of the Indian Penal Code, 1860.
Elements to be considered while dealing with punishment under section 341
When dealing with the crime that is punished under Section 341 of the Indian Penal Code, 1860, and that has been defined under Section 339 of the Indian Penal Code, 1860, the Court is required to consider the following elements:
(1) Whether the person who was obstructed had a legal right to go in the direction in which he was hindered; and
(2) whether the person who was obstructed used to have a lawful right to advance in the direction in which he was obstructed.
(3) Whether the blockage was committed in order to vindicate a legal right held by the obstructer.
(4) Whether the obstruction was acting in good faith when he or she impeded the individual. Nothing that is not done with proper care and caution can ever be considered to be done in good faith, and this must be remembered at all times. The Magistrate is obligated to take cognizance of the complaint if these elements are contained in it, unless there are compelling reasons to do otherwise, which must be documented in writing and supported by evidence.
Landmark Judgements
Har Vansh Singh v State of UP, 1993 Cr LJ 3059 (All).
In a case where the accused, a 15-year-old boy, took hold of a guy from behind in order to allow the primary accused, his brother, to strike, it was determined that there was no evidence of a common purpose to kill. As a result, his conviction following sections 302/34 was changed to a conviction under section 340.
Abraham v Abraham, (1950) Mad 858.
When a bus driver intentionally made his bus stop across the road in such a way that another bus approaching from behind would be unable to continue, he was committing a criminal offence. After a trial, it was determined that the driver of the very first bus had engaged in wrongful restraint.
Sanghi Motors Ltd v MT Shinde, 1989 CrLJ 684 Bom.
This violation was found to have been committed when tenants of a housing society changed an open area inside the complex into a garden and roped it off. Despite the fact that the accused were corporations, they may still be tried under this section and Section 447. Their actions led other members to be unable to move freely throughout the building.
Sankar Chandra Ghose, 1981 Cr LJ 1002 (Cal).
A tenant who was partly prevented from accessing the premises by the closing of one of the door leaves was found not to be a victim of unlawful restraint since he was still permitted to enter the property after the door leaf was closed.
Rita Wilson v State of HP, 1992 Cr LJ 2400 (HP)
The complainant's wife was employed as a teacher at a local elementary school. She was residing in the quarters assigned to her in the school complex until he was transferred to a different location, according to the complaint. Following that, he used to meet his family and was given permission to park his vehicle in a certain location, but he was barred from entering via the school's major entrances and exits. No restrictions were placed on his use of the route leading to the school grounds, where he and his wife were assigned a living quarter. It was determined that criminal restriction to a 'person' is unlawful, but that any obstacle to the plying or parking of a vehicle at a certain location is not.
Rupan Deol Bajaj v Kanwar Pal Singh Gill, AIR 1996 SC 309
There was just one claim pertaining to Section 341: that the accused stood in front of the victim in such a way that she was forced to go backwards. It is not possible to conclude from this conduct alone that he "wrongfully detained" her within the meaning of section 339 of the Indian Penal Code, 1860, and therefore that he is responsible under section 341 of the Indian Penal Code, 1860.
Rajesh Vishwakarma v State of Jharkhand, 2011 Cr LJ 2753 (Jha)
The accused, appellant, approached the victim from behind, threw her to the ground, removed her panty, and attempted to rape her while she was down. The victim's evidence was determined to be consistent. She particularly testified that she kicked the accused in the testicles when she had the chance and then fled the scene of the crime after escaping. The conviction under Sections 341 and 511 of the Code of Criminal Procedure was affirmed.
Natha v State of Rajasthan, 2013 Cr LJ 1905 (Raj).
The dead man was restrained on the way by the accused and 2–3 other people, and the first accused delivered an axe blow to the deceased's head, which was prevented by patting hands in front of him. He sustained an injury near his ear as a result of the previously mentioned strike. Afterwards, the deceased received a lathi hit to the back of his head from the second accused, causing him to fall to the ground and be brutally beaten by the second accused. The deceased passed away as a result of his injuries. The conviction under Sections 302 and 341 of the Penal Code was affirmed.
Conclusion
This may be explained simply by saying that improper restraint is basically constraint in a straight line, which implies that it encompasses all types of restraint that occur on a route or road, as well as any kind of movement that occurs in a straight line. The individual has the choice to move back, left, or right at this point since he is only prevented from moving ahead. This is punished because a person has a legal right to go along a certain road, and another person has limited that mobility.
It is the genus, which means that it is a more general word that encompasses a variety of different sorts of restrictions. In other words, it inhibits someone from taking action in a direction in which they have the legal authority to take action. It is not a very severe offence, and as such, it is penalised by a reduced sentence. There is just a limited suspension of one's liberty throughout this period of time.
To put it another way, consider the following scenario: A was travelling through the school hallway when B stopped her by blocking her path and wrongfully restrained her. Furthermore, if B had simply warned A that if she went down the hallway, a bucket full of oil would fall on her, and A did not walk down the corridor as a result, then B would have illegally detained her as a result. Section 341 of the Penal Code may be used to penalise B in any situation.
References:
Ranchhoddas, Ratanlal. Ratanlal & Dhirajlal's the Indian Penal Code (Act XLV of 1860). 3rd ed. New Delhi: Wadhwa & Co., 2007.
Basu, N. D. N.D. Basu's Indian Penal Code. 7th ed. Calcutta: Eastern Law House, 1986.
Gaur, K. D. Textboook on the Indian Penal Code. Universal Law Publishers, 2011.
Suggested Reading: