Covid Vaccine For 15-18 Year Olds: Finally, Government has come up with the decision about vaccination for children. Starting from January 3, around 80 million children aged 15 to 18 years will be vaccinated against Covid-19 with Bharat Biotech's Covaxin. The Union Health Ministry of Government of India said on Monday that starting January 1, 2022, all children born in 2007 or earlier can get registered for the Covid-19 vaccination via the CoWIN app.
How Can I Get My Child's Vaccination Slot Booked?
According to the government, there will be an extra option on the CoWIN app. By using that option, students can get registered for vaccines using their student identity cards. Since some students may not have Aadhaar or other ID cards, this process of getting registered through student id card has been brought in. Beneficiaries in this case are the children aged between 15-18 years. They can themselves registered online using an existing Co-WIN account or by creating a new one using a unique mobile phone number. At the moment, this service is offered to all qualified citizens.
What Kind of Vaccine Appointments are Available for Children?
The ministry stated in a new set of instructions that such beneficiaries can also be registered at vaccination locations by the verifier or vaccinator in the facilitated registration mode, and appointments can be arranged online (predefined) or walk-in (on-site).
If you want to know how to register for covid-19 vaccination for children, you can refer to this article as well.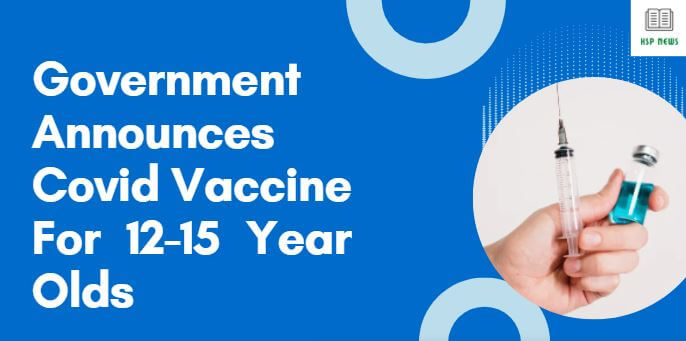 Booster Dose or "Precaution" Dose
The ministry stated unequivocally that the prioritisation and sequencing of the "precaution" (aka third dose or booster dose) vaccine dose for healthcare workers (HCWs), frontline workers (FLWs), and citizens over the age of 60 with co-morbidities would be based on completing 39 weeks or nine months from the date of administration of the second dose. This will start from January 3 along with the children vaccinations.
According to the guidelines, Covaxin was the only vaccination available with a EUL (emergency use listing) for the age range 15-17. However, they did not explain whether the booster dose/third dose or "precaution" dosage for those over 60 and others would be mixed with another vaccination or if they would be vaccinated with the same vaccine as their initial two jabs.
Booster Dose and Omicron Variant
The current spread of the Omicron strain has forced the booster dosage and vaccination of kids, with India reporting 160 new cases, the greatest single-day increase in Omicron infections, bringing the overall tally to 581 around the different Indian states and Union territories. The number of Omicron instances increased by 37% over the previous day's numbers.
Delhi had the most Omicron instances with 142, followed by Maharashtra with 141, Kerala with 57, Gujarat with 49, Rajasthan with 46, and Telangana with 41. In addition, 331 new Covid-19 cases were reported in Delhi, the biggest single-day increase since June 9, and one person died in the past 24 hours. The city's optimism rating has risen to 0.68 percent.
India's Covid-19 tally has risen to 3,47,93,333 in the previous 24 hours, with 6,531 persons testing positive for the fatal virus. The death toll from Covid-19 increased to 4,79,997 on Monday, with 315 new victims in the previous 24 hours.
Government on Latest Covid-19 Situation
Amid the rapid spread of Omicron, Union Home Secretary Ajay Bhalla issued another advice to all states and union territories to maintain their attention on the "five-fold plan" of Test-Track-Treat-Vaccination and adherence to Covid-appropriate behavior. He requested provinces and territories to explore implementing need-based local limitations and restrictions to reduce overcrowding during the holiday season.
"The country has seen an overall drop in active cases," – the statement as it was received. However, the new variety, Omicron, is said to be at least three times more transmissible than its precursor – the Delta variation, providing a new challenge to Covid containment methods.
According to the home secretary, Omicron cases have already been recorded in 116 countries worldwide. Furthermore, an increase in instances has been observed in a number of nations, including the United States, the United Kingdom, Europe (France, Italy, and Spain), Russia, South Africa, Vietnam, and Australia.
Mr. Bhalla stated that the state's enforcement apparatus should firmly enforce Covid-appropriate behavior rules to ensure the most effective measures against the recent. He also said that in order to avoid any disinformation about the new variant of Covid-19, the states should arrange frequent media briefings at the highest level to disseminate proper information.
Frequently Asked Questions
Q1: Are Children of All Age Eligible for the Drive?
Ans: No. Only Children of age 15 to 18 are eligible in this Drive.
Q2: When vaccination for children below 15 years will start?
Ans: Government is yet to provide any definitive date for such a drive.
Q3: Is it safe to vaccinate my child?
Ans: The nod from the Government about vaccination of Children came only after rounds of discussion which took place after series of trials of CoVaxin on children. Since government has approved the vaccination drive, it should be safe. But you can consult your consulting physician to get sure.